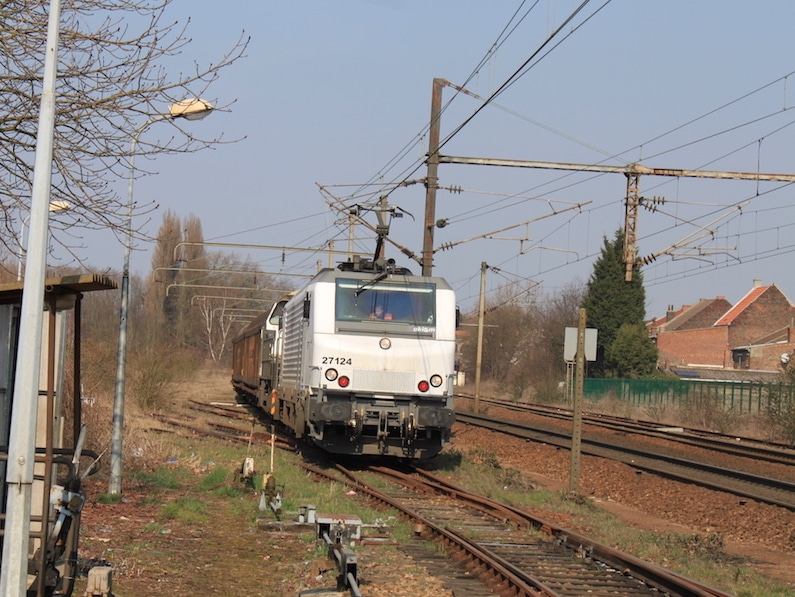 Rail Transport
Our solutions rely on professional men who took part in the opening of the market to rail freight competition by combining different fields of expertise (operational, regulatory, commercial,…).
"We view rail transport as a sector which we must know the different actors' relevance fields, and turn constraints into opportunities. It is the strength of our solutions where each link in the chain is carefully selected for the operational and economic relevance it provides". Sylvain PHILIPPE, rail expert since 2006.
Your rail performance and serenity : tracks… and more !


Train sizes adapted to your supply-chain.
Our Logways teams design and operate rail transport solutions that integrate your volumes, your supply/distribution frequencies and your stocks. We adapt to your organization (your integrated teams, your clients and your suppliers), by anticipating change and guaranteeing reactivity, efficiency and evolutivity.
We design the best train size, according to the triptych: tractive unit / towable mass / size of wagon fleet.
Well-thought-out transport plans for better anticipation
Rail transport plans require perfect mastery of operations, taking into account loading, unloading, batch composition and local maneuver schedules. That is why we strive to anticipate all the constraints and/or opportunities relative to access to site conditions.
Managing partners, rail companies, authorized candidates and infrastructure managers is a key factor for performance. Our expertise allows us to adapt to technical and regulatory evolutions of the French and European rail market.
Steered operations to resist hazards
Every day, we operate a solution connected to your supply chain needs (peaks or variations in demands, technical production stop, ongoing optimization,…). We take into account exterior constraints such as saturation or works on lines and potential technical (engines, wagons,…) and human faults (drivers, land agents, …) by a total or partial substitution solution, notably via road, for the same cost (except force majeur case).
Our rail expertise for a tailor-made solution, designed according to :
Your goods have their own characteristics and possible transport constraints. They require a pre-study enabling us to:
Determine and validate technical transport conditions relative to different regulations: dangerous goods RID, size,…
Accompany you in the optimal conditioning of goods, compatible with all of your supply-chain.
Suggest specific insurances studied and adapted to the operation, permanent, ad valorem.
Designing a tailor-made solution also takes into account your material: your wagons and particular containers.
If you do not have your own fleet, our teams determine the type of wagons to be used, according to the best compromise between goods/loading and unloading conditions/stock availability. We optimize the size of stocks according to global volumes, peaks of use and transport plan. Finally, we manage wagons' preventive and corrective maintenance.
If you do have your own fleet or rent one, our teams can take on the delegated operational management: kilometer follow-up, reaction to incidents, etc. As such, we optimize usage conditions: loading, availability rate, etc. As a logistics partner, we coordinate all concerned actors: holders, renters, maintenance entity, workshops, …
To operate an optimal transport plan, knowing your private sidings is compulsory since it allows us to design a perfectly mastered, global solution.
If you do not dispose of any, or no longer do, Logways studies the creation, renovation or evolution of a siding in your right of way or identifies relevant rail installations close by. We then organize pre- and post-conveying, handling and potential intermediary storage.
If you dispose of installations requiring an upgrade, Logways can assess the residual state and possible circulation conditions on the rails and rail machinery. We also assess the cost of minimal renovation and future conditions of regular maintenance.
If your installations are already used, Logways provides ideal, conjoined conditions for co-activity with the other actors. We optimize the maneuver themes according to the possibilities offered by your installations.
Any rail solution requires on site wagon handling operations (at the start and at the arrival).
If you do not have an organization to meet this need, Logways imagines a technical solution with adapted towing means (shunters, cables,…). We set up teams (internal or external, taking on your staff, training) and material (investments, purchases, rental) necessary for the operations.
If you dispose of teams and means, Logways can coordinate the different actors (rail handling, loading/unloading operator, transporters) and manage operations of subcontractors (management, operational modes, follow-ups).